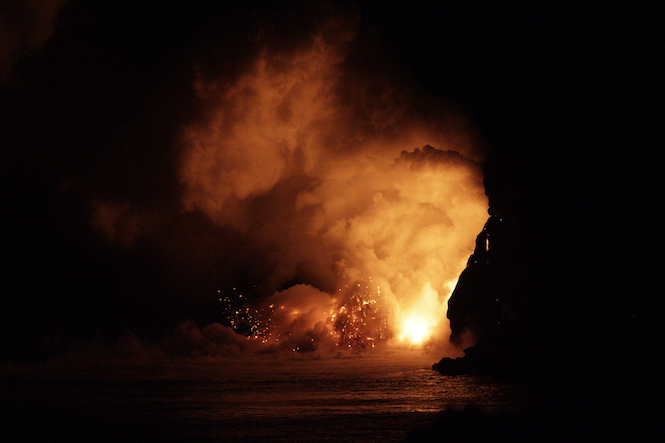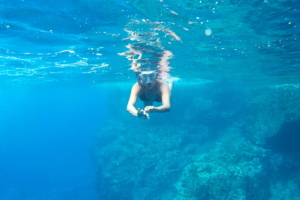 There is an amusement park quality to the Big Island of Hawai'i, a series of microcosms and ecosystems juxtaposed such that tropics and snow are little more than an hour by car. You need only travel for fifty miles to transition from a place which receives 400 inches of rain per year to another which receives just one. From flowing lava to lush forests, from snow-capped peaks to the warmth of a tropical ocean, the diversity of this land is like few others in the world.

In two hikes, six days in total, Colleen and I moved some 50 miles by foot, carrying tent, sleeping bag, rain gear, cook stove, fuel, and food. We treated water along the route, knocked a coconut from a tree by means of a found projectile, unsuccessfully cut into its shell, and spent the afternoons in the sun and water. At night we were greeted by turtles just inches from our camera and light. A massive eel caused us to wonder if snorkeling by day in this remote location was a good idea.

As in 2012 when I visited the Big Island and wrote The Birthplace of Stone, there is a sense of returning home, to be reminded how the Earth was formed. The raw, exposed, treacherous nature of walking on lava leaves one uncertain at nearly every step. The hazards abound while the beauty overwhelms.

This was the kind of adventure that is not easy nor easily ignored. It settles into your skin much as the salt accumulates in your hair or the sulfuric vog pulls at your lungs. Eventually, the memory fades, but something says you must return again. That way of living, in which all that is required is on your back, that is what for me feels natural and normal and true. The rest, this is the dream from which I hope to wake and return to the real world.