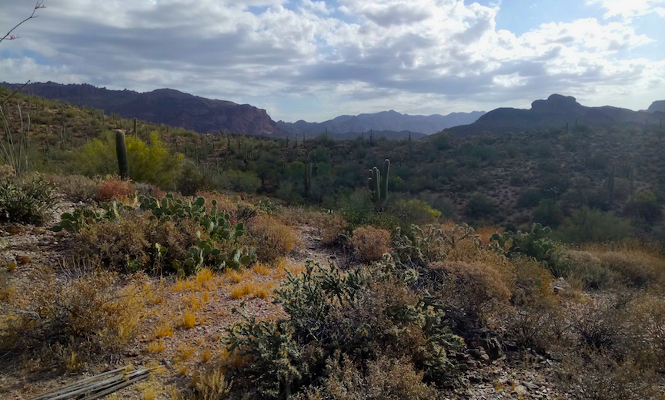 As summer presses spring into a memory, I find balance between the increasing heat and discomfort with nights and mornings on the edge of the Superstition Wilderness.
Just one hour from downtown Phoenix, no matter if I arrive at dusk, well after sunset, or midnight, I am always eager to step out of my Subaru onto the rock of the turn-out where I frequently car-camp. The sound of crickets welcomes me to sleep. Birdsong wakes greets me with rising run and immediately warmth that it brings.

With daytime highs at 105F, the nights here remain cool. Boots on my feet by 6 AM, I walk cross-country, navigating between needles, hooks, barbs, and stones too easily overturned.

With every step comes a surprise, something new to discover and observe. Wrens, hawks, lizards, chipmunks, rabbits, spiders and coyotes all join in my time on the trail. There are homes made among the rubble of old mine shafts, in the hollow spaces of saguaro, and spanning the paths in hope of catching a small passer by. I fetch a light stick to tease a spider from its home, but my ominous figure scares it back into its den again when it my large figure looms. A pair of hawks ride thermals, changing direction with effortless adjustment to the feathers on the very tip of their wings. A quick dive and recovery suggests potential calories escaped their talons, for now.

The only sounds are those of the breeze, a distant jet, and the rustle of needles, leaves, and stones as creatures too small or well hidden move to retain shade. The aroma of creosote and cactus blooms mixes with the ash of last night's fire and I am made to feel at home.