Astronomers Without Borders, Telescopes to Tanzania — 2014 – current
In 2013 Kai met Chuck Ruehle and Mponda Malozo, co-founders with Sue Ruehle of Telescopes to Tanzania in Usa River, Tanzania, at the base of Mt. Meru. Chuck and Mponda were teaching classes in astronomy in rural schools across the country, building capacity for a hands-on approach to science education. In 2014 Kai helped Telescopes to Tanzania raise funds for the development of a science center and observatory. In 2015 Kai ventured to Tanzania to meet with the board of directors of the newly formed Organization for Science, Education, and Observatory (OSEO) to design East Africa's first astronomical observatory.
With the passing of Chuck in 2016, Kai assumed lead of the project and remotely managed construction from 2017-18. From September through December of 2018, Kai and his former high school physics profession Dan Heim completed the refurbishing of a 1970s Astrola 12″ Cassegrain telescope, adding modern stepper motors and all stainless steel nuts, bolts, and washers before shipping it to Tanzania in January of 2019.
Kai returned to Mt. Meru and the Ailanga Secondary School to guide completion of the observatory and installation of the telescope with the local teachers and students. The rich volume of stories and photos are available at the Facebook page and Astronomers Without Borders website.
Evangelical Lutheran Church of Jordan & the Holy Land, Jerusalem, Palestine — September 2012 – January 2013
Kai served as the Interim Director of Communications for the Evangelical Lutheran Church of Jordan & the Holy Land under Rev. Munib Younan, PhD., Bishop of the ELCJHL church and president of the Lutheran World Federation. In this capacity, Kai rebuilt the ELCJHL website and produced short documentary format films in an effort to capture daily life in Palestine. I am Palestine went on to win a number of awards at international film festivals.
Holden Village, Washington Cascades — August-December 2011
In this isolated, wilderness retreat center, Staats served as a carpenter, videographer, and assistant in the IT department where he helped to maintain the physical integrity of the eight decades old buildings, captured life in the village in film, and improved the local network which had, prior to his effort, suffered frequent outages.
An NPR story about the mine remediation at Holden Village features a short film produced by Staats.
Santisimo Sacremento, Piura, Peru — May 2011
Staats worked with Padre Joseph and his staff at the Catholic church Santisimo Sacremento to improve the electrical wiring for mission critical operation for a new clinic, to design a solar PV array to power the computer lab at a new school, and to provide architectural sketches for a sanctuary to the Mother Mary in an "invasion settlement" (shanty town).
No More Deaths (No Mas Muertes), Arizona / Mexico Border — Spring 2010
Staats worked with other volunteers to provide food, water, clothing, and first aid to migrant workers who travel on foot from Mexico into the United States Arizona in the harsh, high desert West of Tucson, Arizona. To learn more, visit www.nomoredeaths.org.
SpanAfrica, U.S. & Africa — 2007-11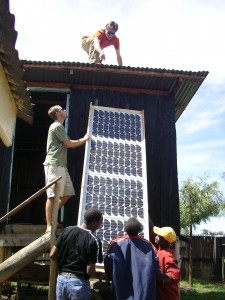 In addition to his hands-on volunteer time in Africa, Staats served as a Board member for SpanAfrica to help build an efficient, scalable, sustainable organization which works with grassroots organizations in Africa to improve education, health, and quality of life.
Staats' duties included:
Created multiple internal and public facing mailing lists.
Initiated rebranding of "Student Project Africa Network" to "SpanAfrica".
Adopted WordPress and then Drupal as the CMS; migrated content.
Created on-line 'portals' which support the Executive Board, Regional Directors, Grassroot Partners, and Volunteers through the provision of calendars, document management, and on-line tools.
Created on-line Store.
On-going hosting of website and store.
On-going design and website development coordination.
Almost Famous Film Festival, Phoenix, Arizona — 2005 – present
As an amateur film maker, Kai Staats supports his brother Jae twice annually with event coordination of the Almost Famous Film Festival (501c3) short film challenges held in Phoenix, Arizona, the United States' largest contiguous short film challenge with a record 82 teams competing in a single event.
As of February 2012, the A3F is responsible for the creation of more than 1000 original short films. The A3F has since its premier event in 2005 enriched the Southwest film community with an exceptional experience focused entirely on the independent film maker.
Computer Lab Redevelopment, Northern Namibia — June 2001
Kai worked with teachers of a private high school in Northern Namibia to assess functional capacity of existing and recently donated computer equipment, worked hands-on for ten days to upgrade existing systems, and then provided a crash-course on the internal workings of a desktop computer system.
Community Build Playground, Salmapolska, Poland — July 1995
Kai co-lead a more than fifty person, six week volunteer contingency from seven countries in the design and construction of children's playground in Salmapolska, near Bielsko Biawa, in rural, Southern Poland. Some photos are available in this blog entry, a commemoration for international leader and healer Herb Brokering.
Community Build Church, Salmapolska, Poland — July 1993
Kai's family (parents Dick and Linda, brother Jae) assisted with the construction of a new church and small amphitheater in Salmapolska, Poland, under the leadership of Rolf Bell and Herb Brokering, as commemorated in this blog entry.
Guardian Angels, Phoenix, Arizona, Chicago, Illinois — 1988-89
Kai worked with the citizen crime fighting organization Guardian Angels in downtown Phoenix in order to reduce gang activity, street-level drug sales, and violence. The Phoenix chapter was successful in bringing to the public attention a chain of low-end hotels which harbored illegal drug use, prostitution, and unsafe living conditions, resulting in a federal investigation and closure of the facilities. Kai also trained in Chicago as a "24/7", where he gained first-hand experience in neighborhood boundary gang activity.
Phoenix Astronomical Society, Phoenix, Arizona — 1988-92
Kai served as president of the Phoenix Astronomical Society, the oldest astronomy club in Arizona. In this capacity, Kai coordinated meetings, outings, and arranged for guest speakers and field trips. During these three years, Kai was fortunate to meet Clyde Tambough, discoverer of the planetoid Pluto, Gene Shoemaker and David Levy, co-discoverers of the SL9 comet which plunged into the atmosphere of the planet Jupiter. Kai recalls clearly the night Levy came to the PAS meeting to speak, just two days after the discovery of the famous comet, and opened his talk with, "As you may have guessed, I will changing the subject of my presentation for the evening …"
Ronald McDonald House, Phoenix, Arizona — 1987-88
Kai volunteered at the Ronald McDonald House, Phoenix, Arizona, as an afternoon activities host and occasional night manager.