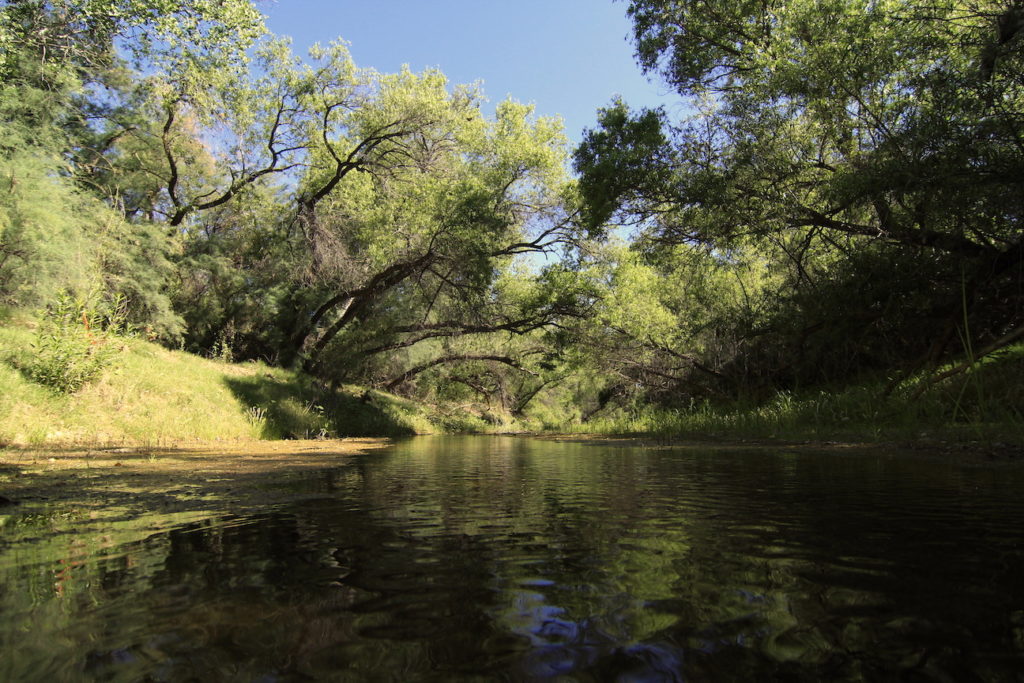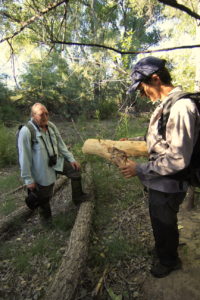 This photo essay is part 1 of 2.
I am a new resident to the San Pedro River Valley, a place as magical and invigorating as any of the wilderness ares I have visited in the western United States. I feel incredibly fortunate to have come into land and a home here in Cascabel, to share this place with an incredible diversity of native wildlife and human visitors from varied backgrounds and interests. We have in common a shared concern for the future of this valley, a narrow corridor that follows the San Pedro from South to North, bounded East and West by designated wilderness, BLM and State land, and private parcels.

Each year, the Nature Conservancy hosts river walks to record the amount of water running at the surface of various streams across the US. For twenty one years, the annual San Pedro river walk has grown to more than 100 volunteers and a total of 300 miles traversed in the San Pedro and its key tributaries. Partners include the Bureau of Land Management, National Park Service, Arizona Game and Fish, Community Watershed Alliance of Benson, and private land owners throughout the river valley, from northern Mexico to the headwaters to the Gila River, a tributary of the Colorado River.

I was fortunate to be invited to participate, following in the footsteps and guidance of my neighbor and renowned naturalist Ralph Waldt and valley resident Sam. In 2018, the 20th year of mapping, just 23% of the river had surface water, the lowest number on record. This low point is consistent with climate, water and drought data recorded throughout the Colorado River Basin. Records indicate early 2018 was the third driest in the Colorado River Basin historic record.

Prior to the 1800s, records and stories tell a very different story. The river was wide and meandering, rich in wildlife of an even greater diversity than now. The fish were reported to be over three feet long, and the valley lush with grass, not mesquite or cacti. Native Americans called this valley home for some 14,000 years prior, with the San Pedro hosting some of the oldest archaeological sites in North America.
But with advent of cattle ranching, timber removal to fuel mining steam engines, beaver removal to reduce malaria, and settlement came topsoil erosion, followed by the narrowing and cutting of the river into far deeper banks. Today, in places, the river lies more than twenty feet below its original bed, a reality check when looking back up to the sky line from where we walked.

Two decades of mapping, however, do show that conservation actions on the upper San Pedro are having a positive impact. The mapping information, along with USGS research, has helped TNC and its partners design an innovative, regional recharge effort to collect storm water and other water sources and put it back in the underground aquifer to replenish river flows.
However, continued depletion of ground water by developers, including the proposed 27,000 home / 70,000 resident Vigneto community near Benson will only further deplete the already heavily-taxed water table.

A recent University of Arizona study confirms that groundwater pumping is drying up Arizona rivers, as told by AZ Central, July 25, 2019, "Groundwater pumping has caused stream flow in U.S. rivers to decline by as much as half over the last century, according to new research by a University of Arizona hydrologist … research confirms that groundwater losses, primarily due to pumping water from below the surface for agricultural and municipal uses, decrease the overall surface water supply and have caused some smaller streams to dry up. This has a downstream effect that influences water levels far beyond the groundwater pumping location."
This photo essay continues with part 2.