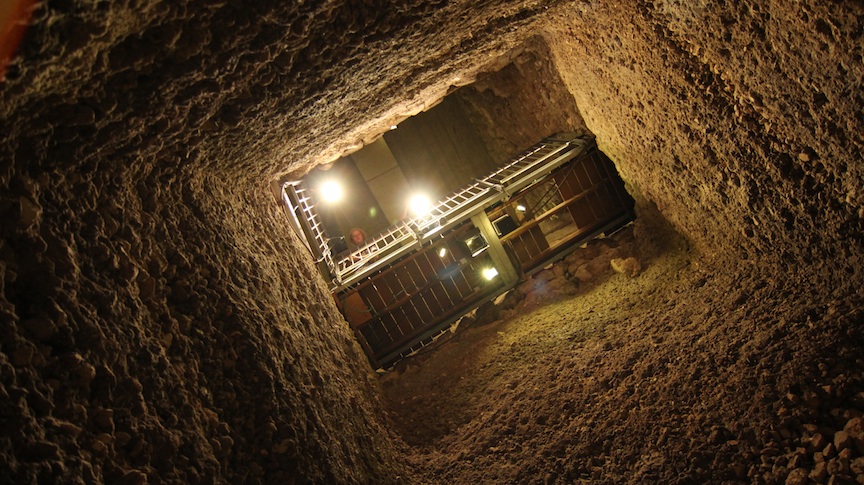 I spent yesterday and today with my assistant Farid Karreh, film student and nephew of Bishop Younan, with the Director Prof. Dr. Dieter Vieweger, Archaeologist Katja Soennecken and Museum Curator Dominic Pruessner of the German Protestant Institute of Archaeology in the Holy Land, the Research Unit of the renowned German Archaeological Institute (DEI) with a long history of work in the Middle East.
I am producing a short, educational film for the Institute, working to capture some of the knowledge and passion of those who have worked at this site, beneath the Church of the Redeemer in the Old City Jerusalem for more than three years.

The first excavation was conducted in 1893 in conjunction with the construction of this church, and again between 1970 and 1974, during the renovation of the church foundation and floor in order to improve its odds at surviving an earthquake. At this time a seven meter "deep sounding" (cut) was taken to the level of a Roman quarry, dating from 100 B.C. In the past three years, Dieter and his team cleaned this lower level and made significant, unexpected discoveries through the rest of the site, removing more than a meter of soil and rubble to expose a market street, cistern and drain, guard house, mosaic, and retaining wall originally constructed in the 4th century A.D. to hold back an elevated terrace.

Built between 1893 and 1898, the modern Church included a "time capsule" installed in the cornerstone. This was located and reopened, revealing several items which will eventually be replaced, along with some references to our modern day.

By the time of Jesus birth, the quarry on which I stand in these photos was already beneath 2-3 meters sediment. Today, Muristan Street (just outside the front door of the Church) is 14 meters above the Roman quarry, the layers comprised of both natural and human maneuvered sediment, rubble, and infill. It is often difficult to think in geologic terms, to consider the movement of this much earth in such a short period of time, let alone to consider that every block of limestone used to construct nearly every building in Israel and Palestine came from the deposition of once living plant and animal material and chemical precipitation, pressed down, heated, transformed, and lifted up again as stone.

Standing in that cut made it more tangible for me, not unlike walking down into the Grand Canyon, taking in the visible layers of sandstone, limestone, schist, shale, various igneous flows, granite, and eventually bedrock. I regained a strong sense of how quickly the earth does shift, move, and churn. In just one century the precise work of laborers was completely buried. Two millennia and one requires a concerted effort to locate the quarry whose stones defined the walls and gardens and thrones of more than a few infamous kings. One hundred millions years and entire mountains are disassembled and tumbled to the sea.