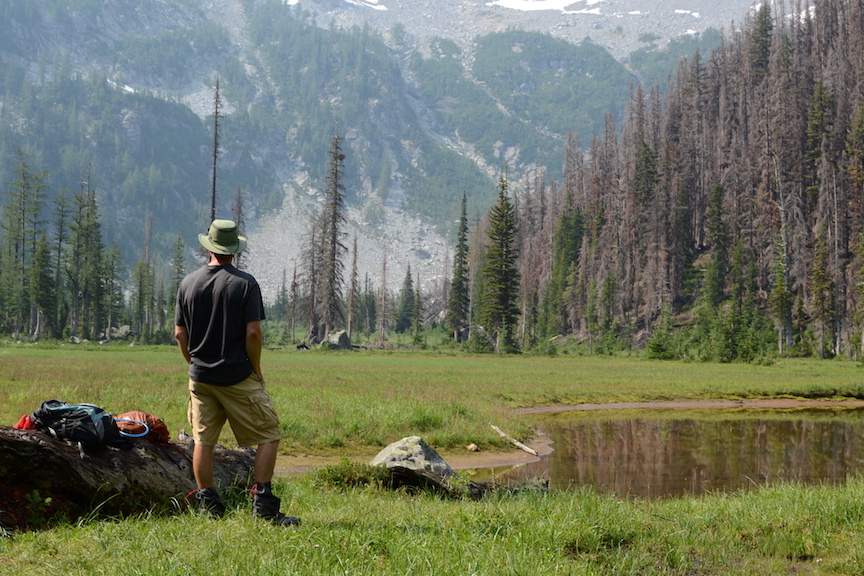 Sound
In the wilderness, all sounds are welcomed. The wind provides clues to its direction and magnitude; thunder direct indication of an approaching storm. The breaking of branches notifies us of an approaching deer. The shrill call of a marmot—an alert of our own approach or that of a bear. Even the buzz of the mosquito and fly are warnings of their impending bite. All sounds are welcomed. Not a single one do we filter or hope that it will subside. Every night camped with the backdrop of a creek is a night spent in deep sleep.
Returned to the world of human creation, my senses are overwhelmed. Moving over concrete and pavement when my body aches for the sensation of the trail beneath my feet. No longer do I adjust my center of gravity for each footfall, a kind of walking dance with an earthen partner. Rather, I simply fall forward, step by step in an disengaged slumber. I am reminded how the world we occupy was forged in an effort to reduce the effort required to conduct even the most basic of tasks.

Taste
Soft, warm huckleberries suspended within reach of passing hikers. More than anyone could count let alone consume. Bright blue Oregon grapes at foot provide a bitter balance to the consistently sweet thimble berries whose textured red cap is readily transported from stalk to lips with but a pinch. Elderberries are prevalent but desire to be consumed as wine, not in raw form. Salmon berries. Raspberries. Clusters of bright orange fruit suspended from thin fingers of mountain ash.
Crystal clear, crisp streams continue the downward fall from cloud to snowfield and glacier to kettle pond and river. With and without filtration, these molecules have flavor, a reminder that water in and of itself can be enjoyed.
Raman noodles, rice, and rehydrated vegetables are cherished as though served by a world renowned chef in a top ranked restaurant. Even the simplest of flavors come to life when days are measured not by hours on a watch, but by miles on the trail and having reached once distant peaks.
Physical
It is a mistake to say that "touch" is a sense, for it is not what we reach out and grab, rather what reaches out and grabs us that brings us into the physical world. When we remove the comfort of our climate controlled home and step out into the unsafe domain beyond, it is only the metabolic processes of our cellular respiration that keeps us from freezing, overheating, or succumbing to the temptation of a storm.
Strip off our clothes, remove our steel shanked boots, unfurl the locks of unkept hair and dip into the cool, silky water of glacial run-off, turquoise as seen from afar. In shallow, still pools it is warmed by the sun. The slick mud moves between toes with so little friction that one is likely to slide from bank to center of pond, having no choice but to fully immerse and swim back to shore, grabbing grasses and shrubs by their roots to rise up and place bare bottom back on land.
This is the physical engagement, the realization that we are nothing without our gear. We are just another naked animal enjoying the movement of ice over stone, melt over land, and sun over water.

Sight
My eyes that find burden in seeing just a meter to my front after days peering at a computer screen once again find a more dynamic range of motion and visual depth. Colors well beyond the range of 16-bit overwhelm my senses and remind me that our experience of this world will never be matched by a digital facsimile.
Mists at dawn linger over dark forest cover. Whales mingle in shallow waters close to shore. Water falls from high nooks, cascading into perpetually turbulent pools. Eagles rest on bare branches back from tidal shores, patient for the next time the water recedes and food is exposed. Mountain ridge after ridge recede into the distance, each a shade of gray and purple combined. Growing flames of Cascade fires cover the valley floor with what could at first be mistaken for ladened clouds lying too low.
Our breath is caught in that place where emotion is held, pulling at a sense of longing, a blend of pain and joy expressed as tears. The complex dance of photons upon retina invokes memories carried from long before our childhood.

Smell
Pine needles both dry and moist carry a distinctive aroma immediately recognized as one marches up trail. From sun baked, earthen footpaths covered in crumbled remains of the pine's lost luster to shaded, packed layers of fallen debris so thick as to invoke the sensation that the earth itself is a trampoline. And with a gust of wind chemical compounds are released, wafting up into the currents and eddies only to be inhaled as a memory of another times when I explored, rested, or made love beneath pine trees.