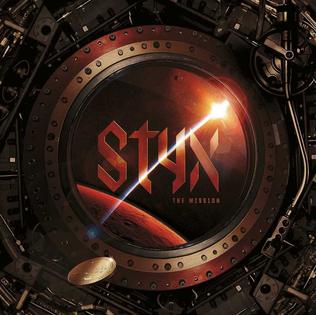 I am of that generation that yet cherishes the physical representation of music in vinyl and CD form. I listen to albums, not songs, enjoying the story as it was designed to unfold. As long as I was visiting, I walked the CD isle at Best Buy to see if there was anything new of interest.
I noted an album by Styx called The Mission. I didn't even read the back—I just grabbed it, as I had not seen a new album by this, one of greatest rock bands of all time, in many years. When I got home, I read the booklet and was blown away, realizing this is not a compilation or digital re-sampling of old songs, but a totally new album written specifically for this, the second era of space exploration. I ripped the CD, copied it to my phone and listened on my car stereo as I drove north to Flagstaff.
The Mission is the sixteenth studio album by the band Styx, released on June 16, 2017. It is the band's first studio album since 2005's Big Bang Theory, their first album of original material since 2003's Cyclorama, and their highest-charting studio album in the United States since 1983's Kilroy Was Here, reaching #45 on the Billboard 200. A concept album, it tells the story of a mission to the planet Mars in the year 2033. The album's story was written by Tommy Shaw and Will Evankovich —Wikipedia"
It is difficult to express the impact this album had on me—a visceral response that included goosebumps, adrenaline, sweating as I moved to the beat, and most of all—a reminder of what music, real music used to be.
The Mission is not just a voyage to a distant planet, but a voyage through rhythm designed to match the unfolding story, intelligent lyrics ("Time may bend, but it hasn't bent enough for me."), and engaging melody. These songs contain a deep understanding of instrumentation, dynamic control of the human voice, and the telling of a complete story much as a movie carries the audience through a full range of emotion. It may be that each generation says the same thing of the prior, but there is nothing being produced by modern bands that matches the rich offering of Styx and the era in which they were born.
On the way out, the guys behind the counter asked if I thought CDs would be around much longer (clearly, they were asking "the old guy" this question). I said I was not sure, but referred to the fact that more LPs are being manufactured today than at any time in history. Clearly, muzak and random play lists are not cutting it any longer. I encouraged them to set aside just one hour, just once, and do nothing but listen to an album, start to finish, to hear the story as intended by the musicians. They admitted they had never done this before … but I am not certain I convinced them to put down their mobile phone for such an eternity.