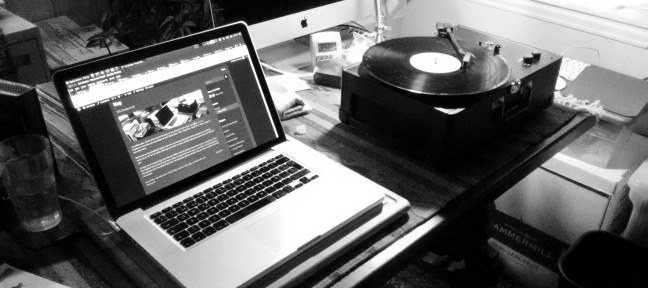 A few days ago, I visited a neighborhood yard sale on the return leg of my morning run. I rummaged through a few boxes, looked past the kitchen appliances, and found an old milk crate packed with vinyl LPs, long play records if you are unfamiliar. I was thrilled to find some of my favourites: Spyro Gyra, YES, Hiroshima, a recording of Gershwin, Kenny Loggins, and a few more.
Ten dollars and I walked away with twenty albums. But more than this, I was transported to a time when listening to music was an experience, not an effort in instant, muzak gratification. I pulled my father's portable LP player from the closet, carefully removed the first LP from its jacket, cleaned one side at a time, then set it to spinning and lowered the needle.
There is something about watching a record spin, about seeing how and where the sound is generated that is engaging as a CD or digital stream can never be. The bass will never be as deep, but the mid tones and highs are dynamic, vocals metallic but present.
Global LP sales are at a high since the mid 1990s, US sales far above sales for the same period. Some call it retro, others the vinyl revival. I believe there is something more, a desire to experience music again. An album is not to be randomly selected, played in fragments, nor listened to as a background YouTube video lost to a broken connection. An album is a kind of story told, from beginning to end.
Perhaps there is a new generation that has had enough of attention deficit, a new generation which craves something a little more … contiguous.